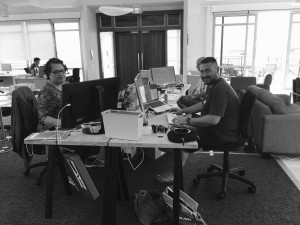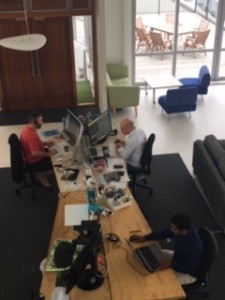 Rabid Technologies is a NZ-owned business technology company that works with a broad client base from start-ups to major enterprises to design and build a wide range of innovative technologies, from apps to websites and from software to hardware. With around 25 employees in NZ, they specialise in projects that require complex interactions, social behaviour, and exploring new technologies and business models, especially where long term strategic planning about the business purpose of technology is required.
James Harton, who has spent more than 20 years making the internet and doing cool things with code, established Rabid's satellite office here at Level One earlier this year.  He's an active member of the New Zealand Ruby community and is currently serving his second term on the committee of Ruby New Zealand. A busy business person and doting dad, he is always on the go; whether as organiser of the 2015 Rails Camp in Whangaparaoa or speaking at events like WDCNZ in Wellington.
With a degree in Comp Sci and over a decade of win on her Silicon valley CV, Haunani Pao came to NZ to join Rabid and lead an even more awesome life! A passionate believer in building beautiful, simple experiences that help people get "stuff" done, she is all about the user experience being at one with the business question. When she's not using her UX superpowers for good, Haunani is a cat mom, co-organiser for User Experience Auckland, is an avid traveler, and takes great joy in experiencing films, art, and occasionally hoarding top-quality art supplies.
Passionate about innovation and socially beneficial uses of technology, Robert Carter brings to Rabid over a decade of partnering with scientists and researchers. Rob relishes the nuances of bringing leading edge research together with reliable, flexible technologies. While deft at working with scientists, he also has a Masters of Fine Arts, enjoys cycling and loves helping teach kids how to fix bikes. He is board member of the Aotearoa Digital Arts Trust.